PRODUCT CATEGORIES
CONTACT US
Add:Yumen Road, Yangzhuangzi, Xiqing Dist., Tianjin, China
Tel:0086-22-27830570
Fax:0086-22-27830570
E-mail:medic@tjmedic.com
Contacts:Ms. Monika Yu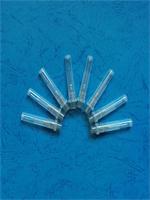 INTRODUCTION:
Gauge: 18G, 19G, 20G, 21G, 22G, 23G, 24G, 25G, 26G, 27G
Greneral Specification:
1. The needles fit the luer nozzle(6% ISO Standard 594/1), or the luer lock
Nozzle (6% ISOstandards 594/2).
2. The needles are treated by silicone oil and triple sharpened according to the ISO7864standard.
3. The coloured hub permits to identify the diameter of the needle.
4. Sterile, single use, non-toxic, non-pyrogenic
Components Details:
1. Cannula: Made of stainless steel AISI 304, diameter and length According to the ISO standards 9626
2. Cannula sharpening: Triple and painless, it is polished by special Technology. (ISO 7864)
3. Cannula cleaning: Electrolytic+ultrasound cleaning.
4. Lubricant: Medical grade silicone oil, according to ISO7864 and USP Class VI.
5. Needle hub: Made of medical grade Polyvinyl chloride, coloured according to the ISO standard 6009
6. Adhesive: Epoxy resion is used to fix needle and hub.
7. Blister: Medical grade gelatinized paper and plastic film.
Packing:
In blister: 100pcs/box, 10, 000pcs/ctn
In bulk: 10000pcs/bag, 20, 000pcs/ctn